Teresa Azcoaga Sierra Bike Check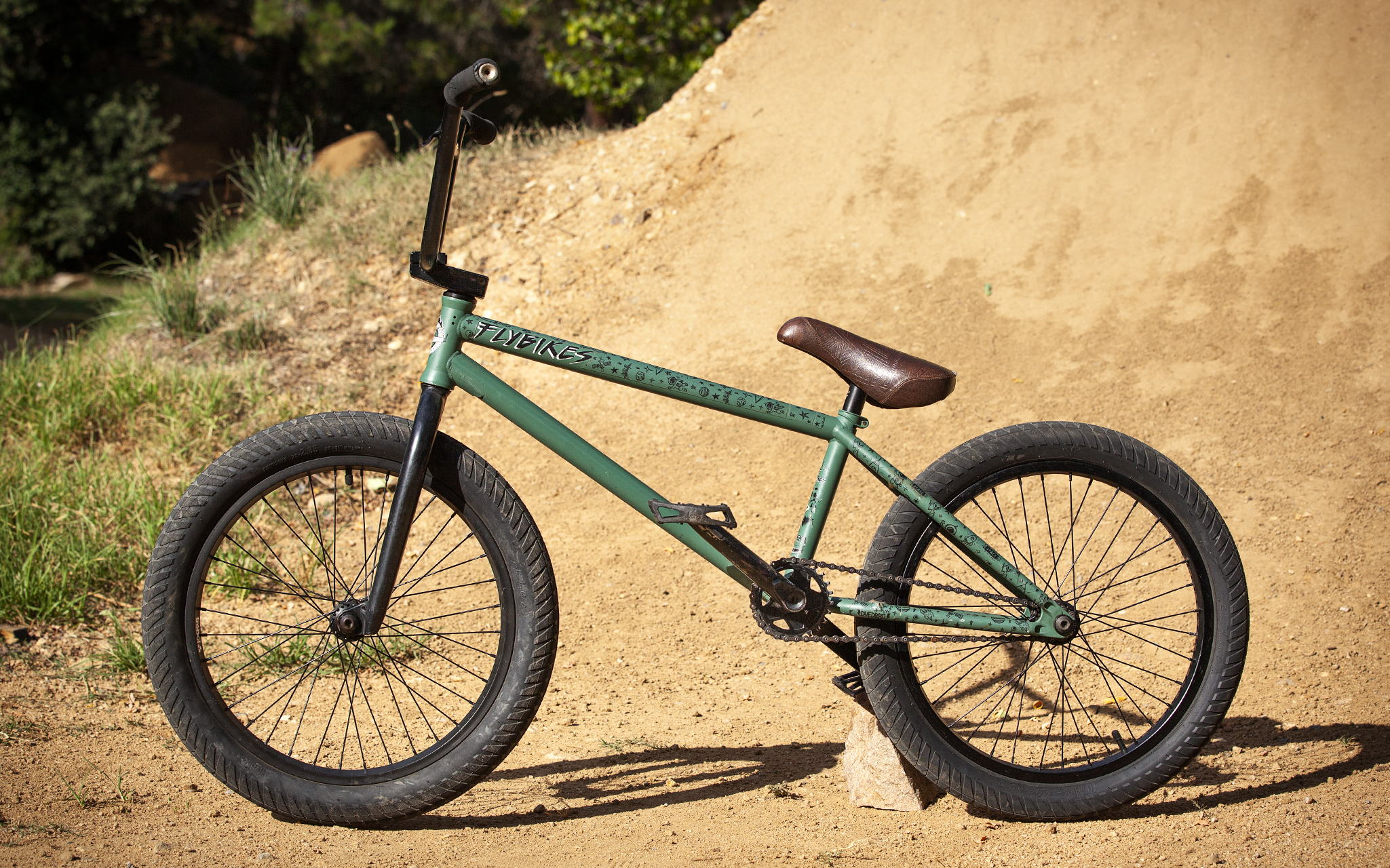 This past summer has been a strange one with everyone being locked down on quarantine, traveling being put on standstill and events all over the world being cancelled. With that, riders have been finding new ways to keep the sessions going! Teresa Azcoaga isn't one to sit around and do nothing, so she's been staying busy building her own trails spot in her backyard and getting plenty of sessions in where she can. We decided to catch up with her to take a closer look at her current Sierra setup and find out what else is new!
Frame: Sierra 20.6" / 13.6" (Sergio Layos signature)
Handlebars: Sierra 8.5" (Sergio Layos signature)
Fork: Fly Volcano 30
Grips: Fly Devon (Devon Smillie signature)
Stem: Fly Volcano TT
Headset: Fly Rotar
Cranks: Fly Dolmen 175mm / 22mm
Pedals: Fly Ruben Graphite
Seat: Fly Savanna Tripod (Courage Adams signature)
Seat Post: Fly Tripod
Bottom Bracket: Fly Rotar Mid BB
Sprocket: Fly Tractor 25T
Chain: Fly Tractor
Tires: Fly Ruben 2.35" Front & Fly Ruben 2.25" Foldable (Prototype) Rear
Front Wheel: Fly Magneto front hub (Aluminum Axle / cone bolts) + Trebol rim
Rear Wheel: Fly Magneto Cassette hub 9T (Aluminum Axle / cone bolts) + Fly Lunar rim
Stickers: Custom frame stickers protection cover by dyedbro.com
You have been running the Sierra frame since you joined the team. What is it about the frame that you like so much?
What I like most about this frame is the weight and size it has. Since I'm tiny, it's perfect to me!
Are you picky at all with your setup? Do you need anything on your bike to be a specific way or your whole bike feels off?
I'm really not very picky about my bike. All I need is for the wheels to have the exact pressure.
What is it that helps you go so high? Helium in the tires?
Haha I hope I can put helium in the wheels! I'm very comfortable with a 20.6 frame and an 8.5 handlebar, I think that's what makes it possible for me to blow up.
What would you say your favorite part of your bike is?
I have always really liked the frame, but now I also love my new Magneto Hubs!
Since COVID made a mess of the year, you haven't been traveling as much as you normally do. What are some of the things you have been missing the most this summer?
This year I had quite a few trips planned and some events that I have not missed for years like Omarisquiño. I'm counting the days until next year's date arrives.
It looks like you have been staying busy with the extra time. Can you tell us a little bit about Villa Carlota? How did that spot all come together?
Haha yes, we have been quite entertained during the quarantine. Some time ago we had thought about doing something in our home garden, we wanted to set up a small skatepark, but our yard is too small for it. So when we saw that we were going to have a lot of free time, we took two shovels, a wheelbarrow, a rake and the hose and we got to work. I have to say, I never imagined it would turn out like this!
Any plans on expanding the spot or changing things up?
Unfortunately the field is small and we cannot make it bigger. But we plan to make one last jump to finish the line!
Have you been working on any new video projects or anything we will be seeing soon?
Until now I have recorded for an ad spot for our yard (Villa Carlota), and for the OMarisquiño online contest. I hope to show that soon!
Outside of riding, what have you been doing to fill your time? It seems like you're always staying busy with your Instagram stories.
The truth is that I like to be busy. Lately I have been riding my Enduro MTB a lot. A lot of trips around the mountain. Also in the summer I like to go to the beach and go swimming in the rivers that are nearby.
Hopefully in the future things start going back to "normal" again. Do you have any big plans for the future?
With everything being paralyzed, everything I had in mind for the future I have had to cancel.
Anything else you want to say?
I'm just counting the days so that I can travel again without fear. I really want to see my friends from all over the world and be able to have those sessions that I miss so much!