Larry Edgar Bike Check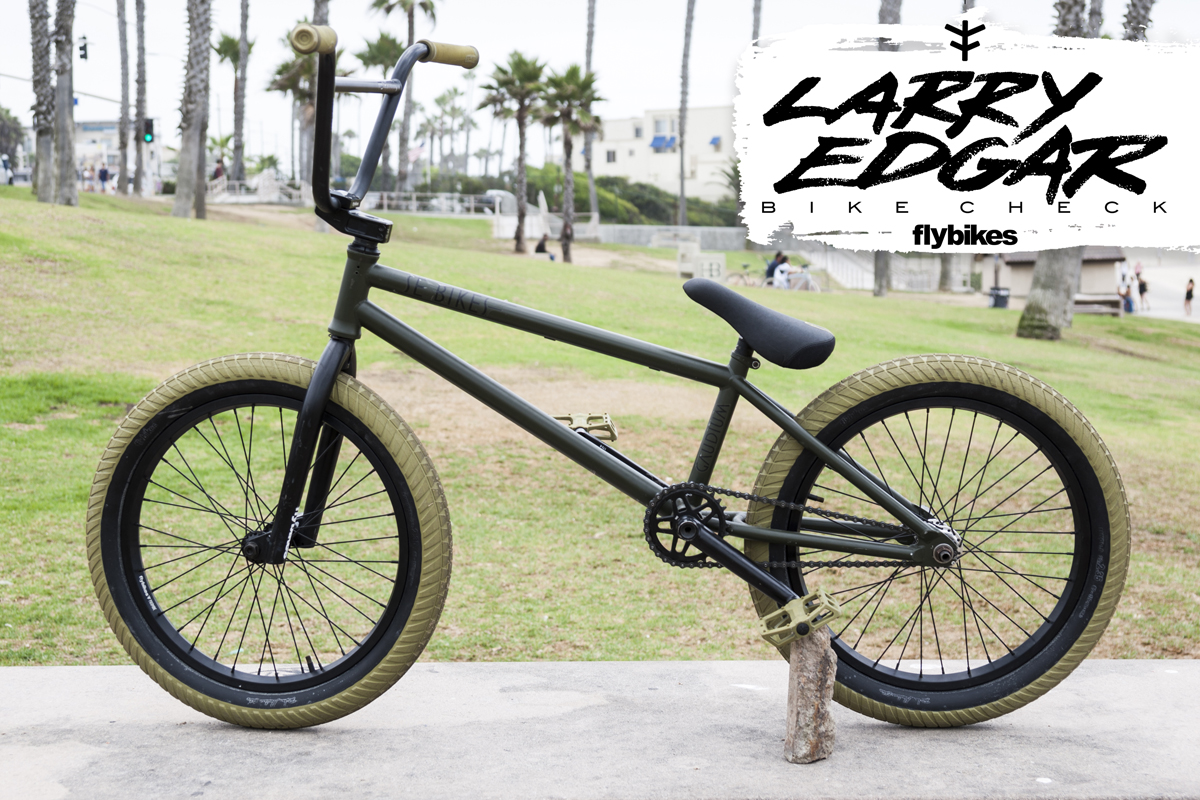 Sponsors: Flybikes, SE bikes, Vans shoes, Stay Strong bmx, Ride 100 Percent, Epic BMX, BC Racing Coil Overs
Bike Setup: I like my setup kind of low and long. I have a hard enough time not looping out as it is.
FRAME: S.E. Gaudium
BARS: Flybikes Montana
FORKS: Flybikes Agua fork
HEADSET: Flybikes headset
GRIPS: Flybikes Devon grips
STEM: Flybikes Roey stem
SEAT: Flybikes Roey Tripod seat
SEAT POST: Flybikes Tripod post
CRANKS: Flybikes Dolmen cranks
SPROCKET: Flybikes Pentagono sprocket
PEDALS: Flybikes Ruben pedals
CHAIN: Flybikes Tractor chain
FRONT HUB: Flybikes Front Hub
REAR HUB: Profile Racing LHD
REAR RIM: Flybikes Piramide 2
FRONT RIM: Flybikes Piramide 2
REAR TIRE: Flybikes Ruben tire
FRONT TIRE: Flybikes Ruben tire
PEGS: Flybikes Tubo pegs
TUBES: Flybikes cobra tube (smartest design ever)
TOOLS: DK random wrench
You're our newest addition to the Flybikes family. How are you liking things so far? How is your bike feeling?
I'm loving things so far they are always keeping my bike fresh, and the set up is the best I've rode so far!
You have had a pretty killer summer filled with contests and plenty of riding. What are some of your favorite moments so far these past few months?
Some of my favorite moments have got to be catching a session with Matt Cordova and Nathan Sykes. I always have a good time riding with those dudes and US OPEN was defiantly a good time!
It's a pretty well known fact that you're a fan of going fast, big and bringing plenty of style. Where did your riding style come from? Did you grow up racing?
Most of my riding style came from compound ramp park in Perris, California. I also tried racing for close to a year when I was 17.
Who were some of your biggest influences when it came to riding over the years?
That's a hard one to narrow down. I think Some of my biggest influences would be Roberto Rivierra and Thomas Hancock ( R.I.P)
What are you looking forward to most being apart of the Flybikes family?
I've always enjoyed watching Ruben and Sergio ride. Just being apart of that is great.
What are your plans for the rest of the summer? Any trips, videos or projects you have in the works?
I'm trying to travel more I think I might be going to Australia, and possibly Canada
What have you been getting into when you aren't riding these days?
When I'm not riding I'm either playing with my dog or wasting money on my car.
How can people keep up with you?
Follow me on insta @larry_edgar