New Fly Signature Bikes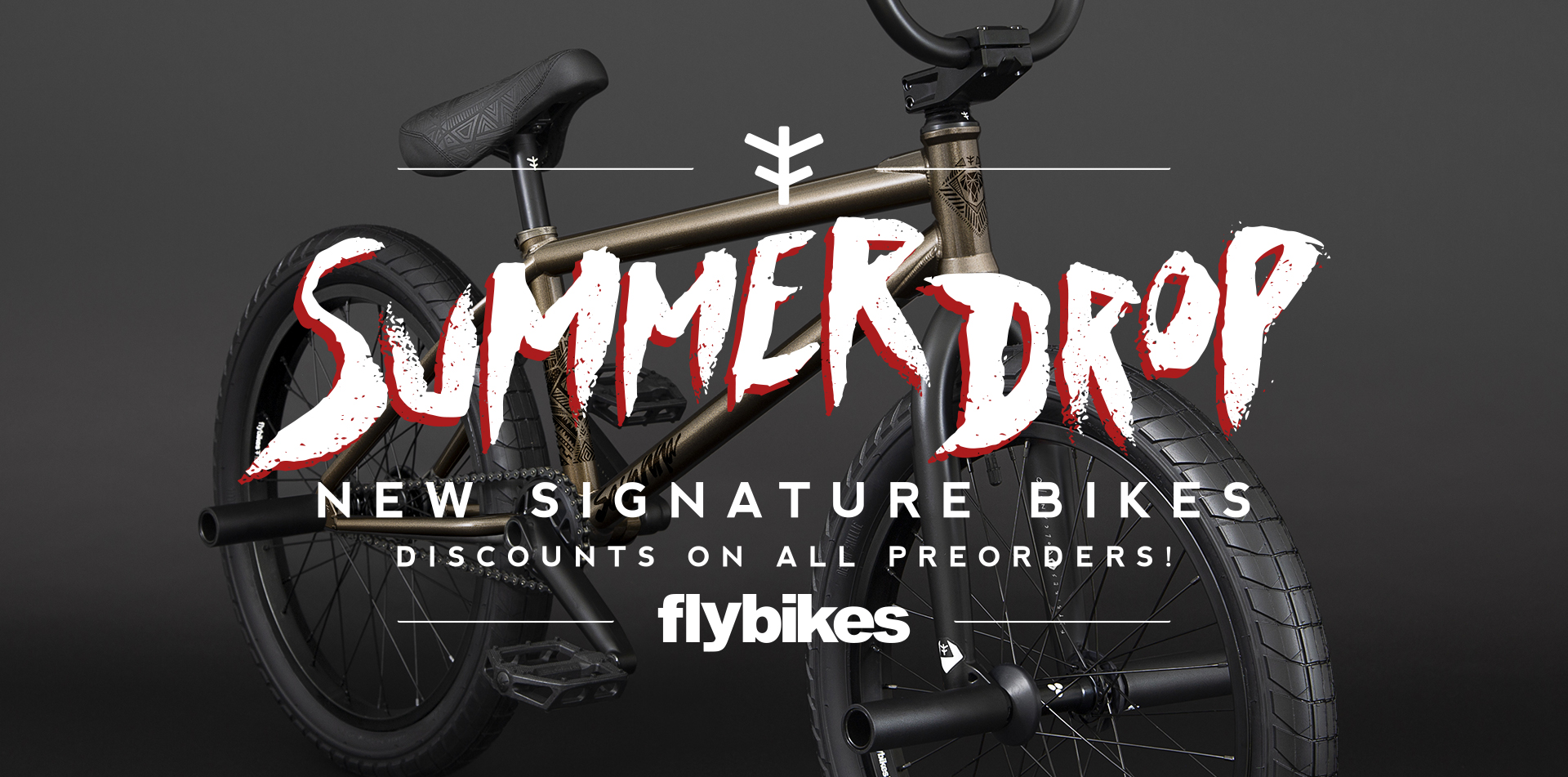 New Fly Signature Freestyle BMXs inspired by our TOP riders
Wanna hear about the new Fly BMX release that is shocking the freestyling bike world? Here is a project on the works for a while that we are stoked to finally bring to light into the BMX world: FLY SIGNATURE BIKES!
Following our team riders' preferences, these amazing bikes are built to be as much as possible as theirs.
From an original signed frame and bars, combined with all aftermarket parts that best fit each bike, and focusing on every single detail. Each of these bikes is built for specific riding styles inspired on our tops: Courage Adams, Devon Smillie, Larry Edgar, and Sergio Layos.
So, let's get to know this new line of bikes we were hyped to show you!
Fly Signature Bikes… choose your fighter!
Following the preferences of each of our team riders, we have designed and developed 5 top bikes that perfectly fit each riding style: from trails BMX to park riding or street bikes. And we have a surprise for you… Pay attention and don't lose your time because THESE BIKES HAVE AN EXCLUSIVE PRESALE OFFER!
SIERRA: Get to know the fastest trails BMX ever made
Starting with the Sierra frame signed by Sergio Layos, the complete Sierra bike is the perfect match for trails if you wanna get the fastest rides.
This time, you will be able to choose between 3 options, including a black or dark red 20" BMX or our Sierra 18" BMX, the smallest bike of the line for our youngest top riders. No matter how many years old you are, the new Sierra bike has been made for you.
AIRE: The BMX park riders were waiting for
If you wanna ride as fast as Larry Edgar up and down the parks, this is your machine. The Fly Aire bike feels so good on ramps thanks to its Fuego tires in addition to Edgars' signed frame and our most successful aftermarket parts for whoever's looking for stylish and fast BMX park riding.
You can choose the elegant and flowy black color or the magnetism of our dark green Fly Aire bike, no matter which one you choose, it will beat all your expectations.
SAVANNA: Courage's choice is the best bike choice
If you really wanna rock the streets, the Savanna bike can make art from your BMX freestyling. Thanks to the powerful combination of its Savanna frame, bars and seat, signed by Courage, this bike can handle any street scenario: stairs, rails or any other urban surface.
When talking about the new Savanna bike, you can choose between our black model or, if you wanna break all the rules, the incredible dark gold model: doesn't matter which one you prefer, this bike is waiting for the new fastest BMX street rider in the city. Are you ready to top that rank?
FUEGO: A street BMX made to hit the ground like Devon
If you are a Devon street BMX styling fan, this bike will drive you crazy. With all our Fly Fuego line, signed by this rider, the new Fuego machine has the most adapted skills for a top range street bike. All the tricks you wanna try are ready to get learned!
What makes this bike so special is its drivetrain design, the same Devon uses. And you can choose in which color you will burn the streets by picking the classic black model or the incredibly flowy dried thyme option.
MOTOSIERRA: The trails bike you didn't know you'd want so badly
As an answer to the most demanding trails riders' preferences, the new Fly Motosierra bike has just arrived to our Signature line. If you get the best Ruben tires, from our Ligera line, you will have the perfect choice for trail riding.
In addition, you are able to choose between the gloss black or dark red color. Make your BMX the machine you are dreaming of to rock the trails' ground by purchasing the new Motosierra bike.
Get your new Fly Signature BMX line with a 15% off in pre-orders
As all our complete bikes, the signature line is assembled in Europe by our staff, so they are built with full attention to detail and strict quality control. This is the way we make sure the best BMX quality gets right to your home, now with a pre-order discount you won't want to miss!
In addition, our In-house assembly allows us to customize your dream bike with the exact sizes, drive side, etc... according to your preferences. No matter your riding style, hand drive tendency or the color you prefer: the new Fly Signature line is designed to cover any necessity and take your freestyle riding to its best.
These are the best bikes that we have released to date, we hope you enjoy them as much as we enjoyed creating them! So now, what are you waiting for to get your 15% off pre-order discount on every Signature model? Come on and rock the ground with a new BMX!